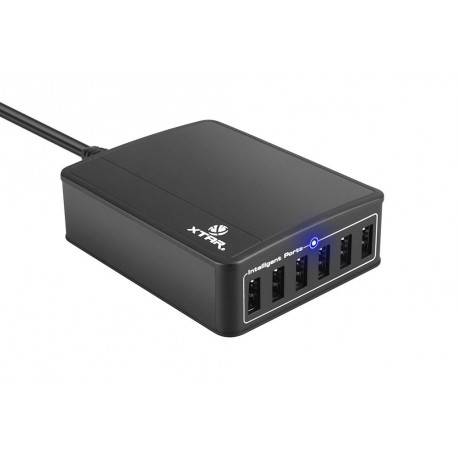 Visualizzazione ingrandita
Xtar - U1 six-U
SV05406C00000
Con l'acquisto di questo prodotto è possibile raccogliere fino a 2 Punti fedeltà. Il totale del tuo carrello 2 Punti fedeltà può essere convertito in un buono di 0,40 €.
Nuovo prodotto
Informazioni sul prodotto
HUB USB da 6 porte e 2.4A ciascuna
Attenzione: Ultimi articoli in magazzino!
Data di disponibilità:
Secure shopping
Garanzia di originalità
Seleziona

In magazzino

Invio in una giornata lavorativa

Non disponibile

Sconto di listino
- carrello da 0 € a 49 €
- spese di spedizione escluse
- Mancano € per raggiungere lo sconto successivo
26,64 €
Spedizione Gratuita
- carrello da 49 € in poi
- spedizione gratuita
- Mancano € per raggiungere lo sconto successivo
26,64 €
What's Included?
- 45W 6-Port USB Charger Hub
- Power Cord
- Warranty Card
Daily Trouble Solver
Say good bye to countless USB wall adaptors and stop wasting time looking for them everywhere. Six-in-one family-sized USB charger is the best choice for whole family charging.
Works with all Your USB Devices
Each port compatible with Smartphones, Tablets, E-cigs, Electronic Watches, USB Battery Chargers, MP3/MP4, Bluetooth Headset and more.
Ideal for International Travel
A family-sized ultra compact USB charger with 100-240 volts input is ideal for wherever you go around the world.
Keep You and Your Devices Safe
We strive for a full advanced safety system and we did. Over Voltage Protection, Over Current Protection, Short Circuit Protection, Flame Retardant Material and MORE.
Deliver the Fastest Speed
Built-in Microchip is like the brain of a USB charger. It communicates with your devices and delivers the fastest charge up to 2.4A max per port.
Charge Faster and Cooler
Synchronous Rectification and Voltage Compensation Technologies maintain the fastest charging and keep the temperature impressive low during the charging.
Maximum Efficiency and Corrosion Resistance
Nickel plating on all-copper USB ports and gold-plated contacts minimize the resistance and maximizes efficiency.
Specification:
| | |
| --- | --- |
| Input | 100-240V~ 1.05A 50-60Hz |
| DC Output | 5V / 9A (each port 2.4A max) |
| Power | 45W |
| Size | |
| Weight | 196 g / 6.9 oz |
Recensioni
Ancora nessuna recensione da parte degli utenti.