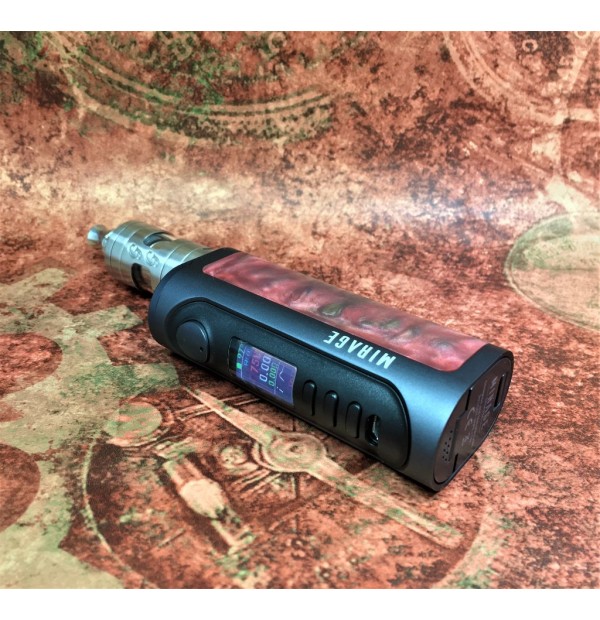 Visualizzazione ingrandita
Lost Vape Mirage DNA75C Drak Grey Frame - Red Blaze
Con l'acquisto di questo prodotto è possibile raccogliere fino a 9 Punti fedeltà. Il totale del tuo carrello 9 Punti fedeltà può essere convertito in un buono di 1,80 €.
questo prodotto non è più disponibile
Nuovo prodotto
Informazioni sul prodotto
Attenzione: Ultimi articoli in magazzino!
Data di disponibilità:
Secure shopping
Garanzia di originalità
Seleziona

In magazzino

Invio in una giornata lavorativa

Non disponibile

Sconto di listino
- carrello da 0 € a 49 €
- spese di spedizione escluse
- Mancano € per raggiungere lo sconto successivo
97,54 €
Spedizione Gratuita
- carrello da 49 € in poi
- spedizione gratuita
- Mancano € per raggiungere lo sconto successivo
97,54 €
Mirage DNA75C can be used with a Single 18650/20700/21700 (Not Supplied), also with flip-open battery sled. It also has a Boost/Preheat 100 Watts Power and integrated 1Amp On-board Balanced Charger.
Features:
• Powered by Evolv DNA75C Board with Firmware Upgradable
• Theme Designer Software/Customizable User Interface
• Onboard Programmable Multicolor LED
• Stainless Steel 510 Atomizer Connector
• Anodized Aluminum Frame and Top
• Single 18650/20700/21700 Convertible
• Flip-Open Battery Sled
Recensioni
Ancora nessuna recensione da parte degli utenti.